All "Ruff Stuff" synthetic leashes have a minimum breaking strength of 400 pounds and are suitable for any size dog with the exception of dogs that are under 10 pounds. The material is light weight and easy to clean so it does not hold dirt and contaminants that an active dog often picks up on conventional leash material such as leather and nylon. The material holds its grip in wet and muddy conditions and will not get twisted and lose it's feel like leather and nylon do.

"Unique material is perfect for our use in the military. We need strength and something easy to handle while wearing gloves and gear, this leash does both and it is nice to be able to return from training and just wipe down my leash."

R. Cotton
USMC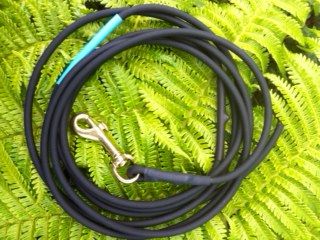 "RUFF STUFF" TRACKING LINE - Round
Great for tracking, long lines or drag lines. It has a 400 pound break strength. This ultra light weight material glides easily through grass and vegetation that would ordinarily hang up other lines. This is a critical component for dogs that are tracking or trailing when a leash correction may influence the path and learning phase of a new dog or interfere with a working dog's mission. All AKC and Schutzhund lines have markers for the respective sport added so that the judges can easily see the length marker in the field.
Additions - You can add a small bead marker so that you can feel when you are approaching the marker or the end of the lead allowing you to keep your eyes on your dog. The lines come without handles and may be custom ordered with handle and varying lengths. (enter any addition in the text of order form). Custom Tracking Lines are $1 for each foot of line over 10'.
Color: Black or Red / Line comes in black unless specified in order.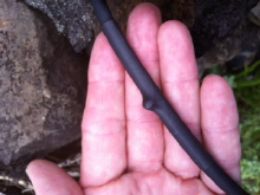 Basic Line (10 Feet or less) $15
Basic Line 20 feet $25
AKC Tracking Line (30 Feet in length with marker at the 20 ' mark on request) $35
AKC Tracking Line (40 Feet in length with marker at the 20 ' mark on request)$45
Schutzhund Tracking Line (33 Feet in length with marker on request) $35



"RUFF STUFF" MICRO LEASH 3/8" $25
Great for any size dog and recommended for specific activities in which you need or want a light leash with the ability to fold into a one hand grasp. Even though the diameter of this leash is small, this material still has a 400 pound breaking strength and works well with even the large breed working dogs! This leash comes with a handle ring so that is can be easily clipped over your shoulder, around your waist or and works well in conjunction with the waist belt and no-pull collar. Color: Black, Red, Blue, Orange, Pink. Military Tan also available by special order!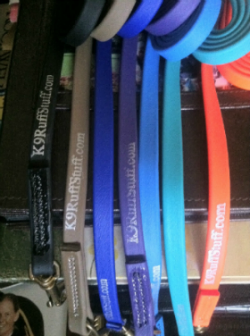 "RUFF STUFF" STANDARD LEASH - 1/2"
$25
Great for any size dog This tuff, light weight material is great for obedience, rally, or any other on-leash activity which the handler needs to easily manipulate the leash without that extra bulk that larger leashes have. With it's superior strength it is also suitable for larger breeds and also comes with the handle ring and bronze clip.
Leashes are available in 4 and 6 foot lengths - $20

Color: Black, Military Brown, Royal Blue, Purple, Sky Blue, Teal, Neon Orange
NEW COLORS ARE HERE!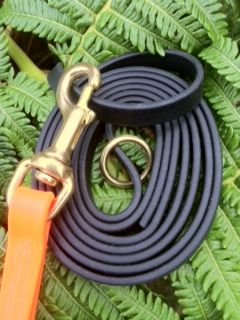 "RUFF STUFF" HEAVY LEASH - 5/8"
$25
Great for larger dogs and comes with the large heavy-duty clip and handle ring.
Leashes are available in 4 and 6 foot lengths - $20
Color: Black 1/2", Red 1/2", Orange 5/8(out of stock)"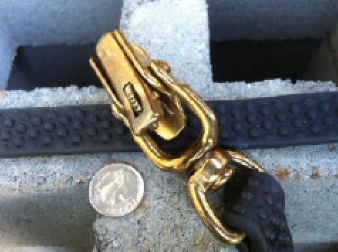 "RUFF STUFF" SUPER GRIP WITH LOC-CLIP 5/8"
This is a slightly thicker material with a softer and tackier feel with textured gripper beads. It is an excellent leash for large breed or dogs that tend to pull making it comfortable on your hands and easier to manage. This leash also comes with the super loc-clip that helps prevent any incidents of a dog getting loose from an ordinary style clip. The handle ring makes it easy to clip around your waist or over your shoulder while not in use.
Leashes are also available with regular clip ($30)
Color: Black only